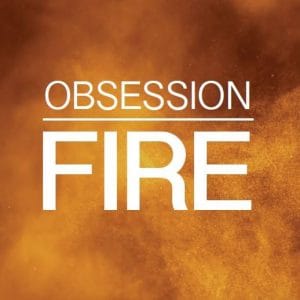 Stand facing the front entrance to Soundstage Studios in North West London, narrow your eyes a little and it's possible, just possible, to imagine you're standing outside the entrance to one of the great Hollywood Movie Studios.
OK, so you have to narrow your eyes a lot. Oh, alright, you have to completely close your eyes and imagine you're somewhere else entirely because let's face it, dear old Gorst Road NW10, is not the same thing as N. Beverly Drive CA 90210. Not the same thing at all.
Nevertheless, a little bit of Hollywood has brushed shoulders with North Acton in the shape of the UK band Obsession and their recently released single, "Fire".
"Fire" is featured in the soundtrack of the hit movie "Me Before You", currently riding high – and I mean very high – in the UK Box Office charts.
So who are Obsession and how did their very funky, very catchy tune end up being featured in a soundtrack that includes such luminaries as Ed Sheeran and Jessie Ware?
Harry Turner (Guitar and Vocals), Alex Reid (Keyboards, Vocals and Trumpet) and Alex Shad (Drums and Percussion) are mates who started playing together while at Southgate Secondary School in the London Borough of Enfield. Originally formed as a jazz/funk outfit with Harry on clarinet and reeds and Alex concentrating on trumpet, they began to introduce vocals to their sound and Harry eventually moved over pretty much exclusively to guitar.
Performing at a local music competition, one of the judges, John "Oz" Osmond, thought he saw something a bit special about them and signed them up on the spot to his management company, Crazy Lazy Bug Management.
Oz has a long and distinguished pedigree and can recognise huge potential and undeniable charm when he sees it.
Originally a music coordinator in the film industry, he has worked extensively in association with composer Howard Shore, including ten years on The Lord of the Rings trilogy. This, while being a considerable badge of honour on his CV, also included overseeing the logistics of transporting entire orchestras and entire recording rigs between Abbey Road Studios and the somewhat less salubrious venue of CTS Studios at Watford Town Hall. (Sorry, Watford.) Over the years, this involved over 70 different moves covering over 4000 miles.
Oz has made some good friends during his time in the world of film music and now, with his manager's hat on, he was asked by Karen Elliot at Hothouse Music whether this new band of his might have some songs that could be a perfect fit for a new film she was working on.
As if anyone didn't know by now, "Me Before You" is the hugely successful film adaptation of the equally successful romantic novel by Jojo Moyes. Starring Emilia Clarke and Sam Claflin, and with a script adapted by Moyes herself, the movie is directed by theatre director, Thea Sharrock, making her debut as a film director.
The venture has not only been a huge success at the Box Office but has also led to a major increase in sales of Kleenex. Probably.
It's a shamelessly romantic weepy with bags of charm and humour in the mix, despite the less than hilarious predicament of the central character.
And it also features a terrific soundtrack featuring, along with the aforementioned Sheeran and Ware, great artists like X Ambassadors, Cloves, Imagine Dragons and a whole bunch more.
And then there's "Fire", the exciting and accomplished debut single by Obsession. Co-written by Lee Mac, "Fire" manages not only to sound ever so current, but also has echoes of early Level 42, has shades of Scissor Sisters, and has just a smattering of, dare one say, Haircut 100.
When it came to choosing a recording studio for the single, Oz looked no further than his old mate Dave Croft here at Soundstage Studios. With ideal rehearsal space, a fantastically equipped recording studio and a Green Screen Film and Video Studio all under the one roof, it wasn't exactly a difficult decision for Oz.
Once the initial recording was complete, the track was remastered at Abbey Road Studios.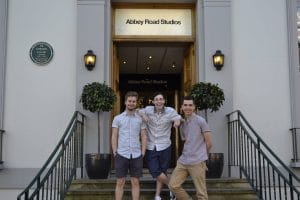 Although normally a Film Editor, Tommy Boulding was asked to turn his skills to directing the accompanying video using Soundstage Studio's Green Screen space. Produced by James Finan and with Martin Roach as Director of Photography, you can check out the rather splendid fruits of their labours right here.  
And of course, you can become the proud owner of "Fire" by buying it at iTunes here.
So where to now for these three North London lads?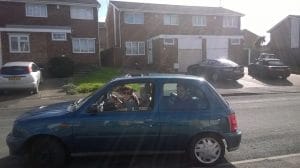 Well, paradoxically, just as their careers have been given a boost by this wonderful exposure, everything's being put on hold somewhat. Harry, Alex and Alex are all still studying (music, as it happens…who would have thunk it?) and the decision has been made to concentrate on that before taking the band any further.
But for any Obsession obsessives, there is no need to despair. They will be picking up from where they left off once they have graduated and in the meantime, they plan to carry on rehearsing, writing and indeed gigging. You can get details of all their upcoming live dates via their Facebook page.  
And you can look forward to hearing more of their cracking and original music soon.